Sign up to our mailing list
To join our mailing list, please enter your information below.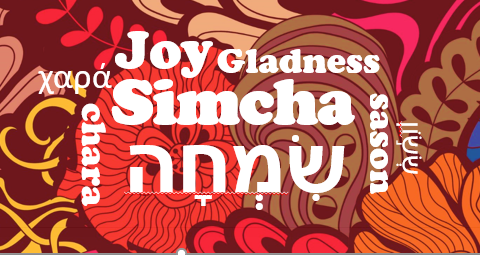 Simcha שִׂמְחָה (pronounced sim-cha. Tip: pronounce "-cha" like how you would the name of the great composer Bach).
When was the last time you danced with joy? Do you remember a thrilling experience and you couldn't help but jump for joy? Joy is such a power booster, a fuel that gives you the energy and drive to achieve more and better.
Our English Bible often equates joy with gladness, mirth, cheer, or pleasure. These words are often used interchangeably. Two Hebrew words, sason and simcha, are translated using these English words depending on the Bible version. In the book of Esther (chapter 8 verse 17), after King Ahasuerus made an edict allowing the Jewish people to defend themselves against Haman's planned destruction, the "Jews had gladness and joy" that is, sason and simcha. Sason and simcha each has very specific meanings. Let's try to explore them here.
Sason שְׂשׂ֣וֹן is characterized by short and sudden burst of exuberance sparked by some external stimulus. You must have erupted in gladness, shouted with cheer and jumped for joy when your favorite team made a last-minute goal. After the game is over, the height of happy emotions wane and disappear until the next round of winning game comes up again. This is sason. Simcha, on the other hand, is a deep and continuous pleasant feeling sustained through time and is not necessarily expressed in jubilant emotions.
The sages connect simcha with the Hebrew word for vegetation. Like vegetation which takes a long time of continuous and sustained growth, simcha comes when a person takes on a certain lifestyle that makes him feel always moving forward, always growing. People with simcha are living with a certain sense of mission and purpose and thus see their existence as something meaningful. They are driven by the anticipation that their dreams, ambitions, or hopes are being realized. No matter what situation they may be in, their mindset lets them see things as becoming better, and they act to make situations better because they are driven by a personal life purpose.
If a person lives with intentionality, he is not bothered by the smallness, the details, and the troubles of life because he sees the bigger context of his life goal. Simcha is connected to the sense of moving forward and growth, and the absence of these is what defines depression—no movement, no growth, no purpose, and no meaning. Life without simcha is routine and mechanical; life is restricted, stale, and boring.
From this backdrop, we can understand why GOD is unhappy when Israel fails to serve HIM with simcha. In Deuteronomy 28:47-48,
"Because you didn't serve Adonai your God with joy and gladness in your heart when you had such an abundance of everything; Adonai will send your enemy against you; and you will serve him when you are hungry, thirsty, poorly clothed and lacking everything; he will put a yoke of iron on your neck until he destroys you." (CJB)
Israel has a great and divine calling to be a light to the nations and bring into reality full redemption of the world. GOD conceived this goal for Israel right from the time HE called Abraham and promised, "all the nations will be blessed through you". This is Israel's purpose for nationhood. Failing to see this purpose while performing GOD's mitzvot, results in serving HIM without simcha. Obedience becomes mechanical, rote. When Israel sees the goal, then she wouldn't be bothered by the minutest elements of service involved in the slaughtering of sacrifices, ritual purities, etc., which she must perform day after day.
The book of James 1:2-4 says, "Count it all joy, my brothers, when you meet trials of various kinds, for you know that the testing of your faith produces steadfastness. And let steadfastness have its full effect, that you may be perfect and complete, lacking in nothing". The Greek for joy in this verse is chara (χαρά), which is translated in Hebrew as simcha. How can anyone undergoing trials, hardships and suffering count themselves as being joyful? Only a person desiring to reach a degree of perfection and completeness of faith in Yeshua could see through such challenges with simcha. Such person understands that at the end of the journey, GOD, in HIS justice, vindicates and rewards. As followers of Messiah Yeshua, we endure hardships with simcha as we anticipate the time when He would say to us "Well done, good and faithful servant. You have been faithful over a little; I will set you over much. Enter into the joy of your master."
GOD Himself is both the object and source of our joy. This week, as we celebrate Simchat Torah, the time of rejoicing over Torah, may we be reminded and be able to experience the joy of GOD's salvation.
Read about peace or shalom.